Suicidal man jailed for gas explosion in West Lothian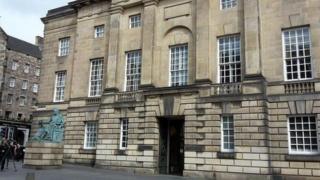 A West Lothian man who put his neighbours' lives in danger when he sparked an explosion after he lit a cigarette in his gas-filled flat has been jailed for 18 months.
Jamie Bishop, 20, who was suicidal, had earlier cut a pipe letting gas into his Broxburn home on 1 April 2016.
Lord Ericht told him he would have been detained for 27 months but for his guilty plea.
Police said nobody else was hurt in the explosion.
A judge told Bishop at the High Court in Edinburgh: "It was extremely fortunate other people were not severely injured or even killed as a result of your actions."
Bishop had earlier admitted culpably and recklessly damaging a pipe causing gas to escape and afterwards lighting the cigarette causing the explosion at his home at Greendykes Road, Broxburn, on 1 April this year damaging property and endangering life.
He told police he had researched methods of committing suicide on his mobile phone and placed an order for a helium tank using his father's bank card.
When the tank failed to arrive he carried out further research and discovered a method to gas himself.
Advocate depute Stewart Ronnie earlier told the court: "He stated it never crossed his mind that anyone else could be hurt."
Neighbours heard a very loud bang and furniture moved as the building shook with a cloud of smoke coming from Bishop's ground floor flat.
An upstairs neighbour saw the windows of Bishop's flat were blown out and flames were coming from the house.
Bishop was seen "looking petrified" and with his arms apparently "singed".
Blast debris
A nurse saw he had sustained burns to his hands and got plastic bags to cover them until emergency services arrived.
He told a police officer he did not mean to cause an explosion and that he turned the gas on and fell asleep and after waking lit a cigarette as he always did.
Bishop, who had been freed from Livingston Sheriff Court two months earlier on bail, revealed he had damaged a gas pipe by the boiler in the kitchen.
The flat was found to be extensively damaged with debris from the blast being thrown up to 98ft (30m).
Mr Ronnie said: "The building is considered to be not worth repairing. A rebuild cost has been valued at £155,412. In all probability the likelihood is that the building will require to be rebuilt."
Three tenants have had to be rehoused and were not allowed to retrieve their possessions because of health and safety concerns.
The prosecutor said: "One resident was uninsured and his pet cat died of smoke inhalation."
Bishop told police he had used a screwdriver to damage the pipe and heard a hissing sound coming from it.
He then put his dog in the bathroom and put towels at the door and opened the window in a bid not to harm his pet.
He said he had gone to sleep in the living room "with the intention of never waking up", the court heard.
Mr Ronnie said: "Bishop stated that on waking up and in a hazy state of mind he lit a cigarette causing the explosion."
He has since undergone skin grafts to his left hand because of burn injuries he suffered in the explosion.