Madison Horn murder: Toddler's death 'could not have been anticipated'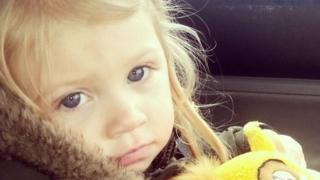 A review into the case of a Fife toddler murdered by her mother's boyfriend has concluded her death could not have been anticipated.
Two-year-old Madison Horn was beaten to death by Kevin Park while he was babysitting her at her home in Kelty in April 2014.
A significant case review found there were no social work or health service concerns for Madison before her death.
NHS Fife records described her as being a well-adjusted child.
The records also said Madison was meeting all her developmental milestones.
However, the report also notes Park, 27, was a known domestic abuser with a history of violence.
It recommends the criminal justice system should share such information with child protection agencies.
Park pulled Madison's hair, lifting her up and repeatedly striking her head against a wall. He also repeatedly hit the toddler.
He was found guilty of murdering Madison in November 2014 and jailed for life.
He must spend at least 22 years in jail before he can apply for parole.
Alan Small, independent chairman of Fife's child protection committee, said: "The review has concluded that Madison's death could not have been anticipated. There was no evidence to suggest that any agency was aware of any concerns about her well-being and neither she, nor her mother, were known to social work services.
"The report published today also states that certain aspects of this case could have been managed more effectively and identifies some learning points.
"One of the learning points relates to the management and sharing of information.
"There are robust information sharing procedures to help us share and manage information across agencies in Fife. The review found that in this instance more could have been done to ensure that these procedures were fully understood by all involved and that the information available was considered and fully analysed in respect of the potential risk posed by Kevin Park."
The report also said lessons could be learned about continuity in the management of offenders, he said.
'Protected and safe'
The Care Inspectorate, which regulates and inspects care services in Scotland, said it would examine "this significant case review in detail".
Chief executive Karen Reid said: "Where things go wrong, it is essential that the right lessons are learned, and changes in practice are made and then embedded.
"Learning must be directed at reducing the risk of future tragedy. It is everybody's responsibility to make sure children are safe, and the Care Inspectorate expects all services to work closely together to protect vulnerable people.
"We expect appropriate information to be shared and that rigorous assessments and care planning are undertaken to make sure people are protected and safe."