Eight people rescued from flats fire in Edinburgh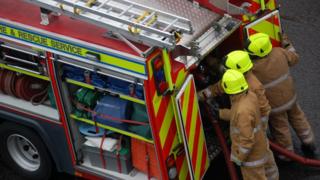 Eight people have been rescued from a block of flats in Edinburgh after a fire broke out in a stairwell.
They were led to safety by Scottish Fire and Rescue Service officers after the blaze caught hold in Murrayburn Gardens just after 15:30 on Sunday.
Firefighters gave oxygen to six people who were suffering smoke inhalation. Five of them were taken to The Royal Infirmary of Edinburgh.
The fire started in a sofa in the stairwell of the three-storey building.