Police defend Edinburgh raffle prize 101 call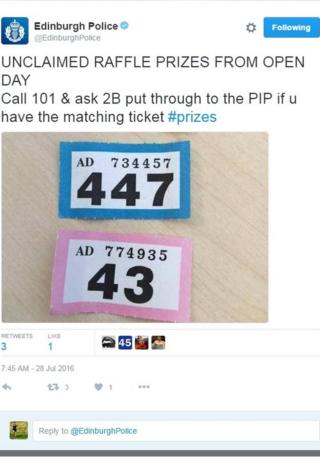 Police have defended a tweet asking people to dial 101 to claim uncollected raffle prizes from an open day in Edinburgh.
Police Scotland said 101 was their non-emergency number for the public to use.
They said they were satisfied they had "appropriate resources in place to handle these inquiries".
Last year there was controversy after Lamara Bell lay trapped in a car for three days after police failed to respond to a 101 call about the crash.
She was found conscious inside the car near Stirling on 5 July but died in hospital four days later.
Her partner John Yuill, 28, also died in the crash.
A HM Inspector of Constabulary report at the end of last year highlighted weaknesses in Police Scotland's roll-out of its new national call-handling system.
It said staffing levels at Bilston Glen - where the call regarding the M9 crash was received - were insufficient and had resulted in poor call-handling performance.
The inspector also said the force had made "considerable efforts to address this".
Thousands of calls
The raffle was held on Saturday at an open day at Fettes police headquarters in Edinburgh.
Police Scotland said on its Facebook page: "101 is and will remain our one and only number for the public to contact us in a non-emergency situation and our service centres are staffed by trained service advisors to facilitate these calls.
"Every day we receive thousands of 101 calls for a range of subjects and enquiries and it is part of a service advisor's daily business to speak with the public, establish what the nature of their call is and progress it accordingly."