River projects awarded £1.65m lottery funding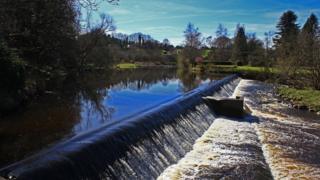 A project to improve two rivers in central Scotland has been awarded £1.65m from the Heritage Lottery Fund.
It is part of a £6.7m restoration project to improve the River Almond and the River Avon.
The Scottish government, Scottish Environment Protection Agency, City of Edinburgh Council and West Lothian Council have also given money.
The River Almond rises in Lanarkshire near Shotts and runs through West Lothian to the Firth of Forth.
The River Avon originates in North Lanarkshire and forms the boundary between Falkirk and West Lothian council areas before entering the Firth of Forth near Grangemouth.
The four-year-project is due to finish in mid-2020.
Officials said it would improve the rivers so they could be used "as a resource for recreation and learning".
Migratory fish
The project includes:
• The Almond barriers project - easing six weirs along the River Almond to help migratory fish such as salmon and sea trout into spawning habitat upstream.
• Killandean blue/green network project - easing a weir and improving instream habitat for aquatic wildlife while improving paths, bins, benches and public art.
• Bathgate water restoration project - restoring 1.2km of river through the heart of Bathgate, improving path networks, viewing platforms, natural play areas and community facilities.
• Upper Avon restoration project - working with landowners to restore instream habitat and the banks of the river for the benefit of wildlife.
• Almond/Avon invasive species project - continue to control a number of invasive non-native species along rivers in both catchments.
• Riverfly monitoring project - engaging communities to monitor riverfly to create an overview of water quality in both catchments.
River Forth Fisheries Trust catchment manager Alison Baker said: "This project is the first of its kind in central Scotland, potentially the whole of Scotland, engaging communities with rivers and I am pleased that the trust is able to be at the forefront of this kind of work."
Lucy Casot, head of the Heritage Lottery Fund in Scotland, said: "Thanks to players of the National Lottery, these rivers will provide powerful and memorable experiences making outdoor learning fun and equipping those taking part with skills which will carry them forward."