Power lines in £1m upgrade ahead of winter storms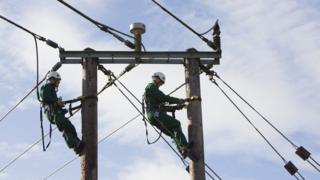 Almost £1m is being spent on upgrading power lines in north east Fife in a bid to stop the threat of power outages during bad weather.
The project in Cupar will replace nearly eight miles of cables across the network and upgrade about 300 poles ahead of the winter.
Older cables at the end of their lifespan will be removed and a new insulated overhead line installed.
The ScottishPower project is due to be finished by August.
The overhead cables will also be replaced at an increased height to give better clearance to large farm vehicles in the area.
Across the central and Fife area, ScottishPower connects nearly 400,000 homes and businesses to the electricity grid through more than 7,000 miles of overhead and underground cables and 4,365 substations.
Peter Joyce, ScottishPower Energy Networks' head of delivery central and Fife district, said: "The work being carried out on the local electrical network involves upgrading both high voltage and low voltage overhead lines, which are all supplied from the primary electrical substation in Cupar.
"The network has performed well over the course of its lifespan, but now requires modernisation and is being refurbished or replaced.
"The work will ensure that customers will benefit from improved reliability during spells of poor weather in future."