Scots woman tells of fear of crowds after Nice attack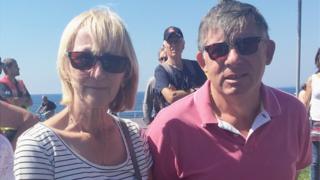 A Scottish woman who lives with her French husband in Nice said the couple will never attend another crowded event after telling of her fear as they ran from gunfire during Thursday's attack.
Avril Cointe, who left Edinburgh for France when she married husband Michel, said they were now very wary of crowds.
A total of 84 were killed on the Promenade des Anglais during Bastille Day celebrations.
Mrs Cointe said: "I have never been so terrified in my entire life."
She added "It was getting kind of cold so we walked up to get our scooter to go home and then heard shots. We thought it might be bangers but then we saw everyone running.
"I fell over an abandoned pram as we tried to get away down a side street."
Fireworks display
The retired secretary, 63, said she felt she had to go back to the scene to attend the minute's silence on Monday in memory of the victims, but would not go to another crowded event again.
"We will never go to another fireworks display, or any crowded event," she said.
"There is a lot of security here today.
"We had to come, we couldn't not come."
She said it is good to see holidaymakers and locals returning to the popular walkway, adding that most were probably still in shock.
She said: "I think they feel they need to come and see it to believe it and try and understand it.
"It's so sad. And children are among the dead. All for nothing, absolutely nothing."