NHS accountant's Twitter posts anger cleft lip campaigners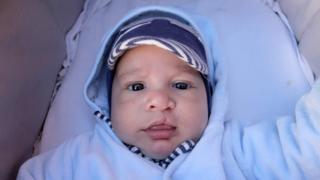 An NHS accountant has suggested on Twitter that he is in favour of closing cleft palate surgery at NHS Lothian.
Robert Martin, who works for the health authority, exchanged tweets with campaigners calling into question the safety of maintaining the unit.
A review of cleft palate surgery has recommended that Scotland's two surgical units - in Glasgow and Edinburgh - be centralised in Glasgow.
However, Scottish Health Secretary Shona Robison has yet to decide.
Campaigners, including the Cleft Lip and Palate Association, said it was important that the views of patients were heard in the consultation process.
The charity previously said it wanted the surgical service to remain on two sites because of "a lack of evidence to show that the existing structure wasn't working".
About 100 children a year in Scotland need surgery to correct a birth defect which occurs when the baby's gum and upper lip does not form properly.
'Complex surgery'
Surgery can help them talk and eat. Both Scotland's clinics currently specialise in the surgical procedures.
However, using a private Twitter account, under the name 'AndyGraysdouble', Mr Martin told campaigners: "You're using the same arguments that would be used to keep unsafe heart units open in Eng(land)".
Campaigners responded that the Edinburgh unit had the best outcomes in the UK.
Mr Martin then told campaigners that they should read the 'Kerr report', which was written in 2005 by one of the UK's leading cancer experts as a blueprint for centralising services.
Mr Martin wrote: "You can provide loads locally, but not complex surgery."
However, campaigners pointed out that the Kerr report recommended two main centres for all childrens' services other than neurosurgery.
Commenting on Mr Martin's tweets, NHS Lothian's Alan Boyter told the BBC: "We have a social media policy in place and staff are regularly reminded of their expected conduct and responsibilities as an employee of NHS Lothian.
"Any breach of that policy would be taken very seriously and investigated thoroughly."
Health Secretary Shona Robison has previously said a review of the service was an "on-going process" and that no final decisions had been made.
She said: "A consultation is underway, and the views of patients and families, are not just welcome, but an extremely important part of the process."