Couple killed in three-car crash near Edinburgh named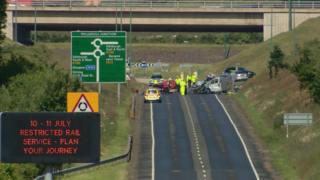 A couple who died in an accident on the southern outskirts of Edinburgh have been named.
Jenna Tindall, 29, and Marc Edwards, 26, both from Dundee, were pronounced dead at the scene of the crash on the A68 in Midlothian, near the Edinburgh City Bypass, at 03:15 on Friday.
Another man was taken to hospital with serious injuries.
The A68 was closed between Salters Road and the Millerhill junction. Police have appealed for witnesses.