Woman tells court of being set alight with lighter fluid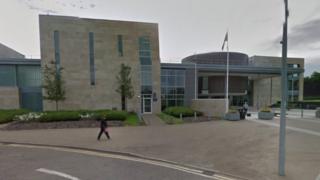 A woman has told a court of the moment a man squirted lighter fluid on her head and face before setting her on fire at her home in West Lothian.
Anne Crossan told a jury the man who scarred her for life was Stewart John Watson, who denies attempting to murder her in the attack on 4 November 2015.
Miss Crossan, 47, said Mr Watson came to her Polbeth door at about 23:30.
Two months before the attack, she said she had found out something about Mr Watson and phoned his then girlfriend.
She said he overheard her call, grabbed the phone and threatened to "murder" her.
Miss Crossan told the High Court in Livingston how Mr Watson had arrived at her door two months later saying he had broken up with her best friend, Sharon Christie, and he wanted to talk to her about it.
However, when she opened the door, she claimed he showered her with a flammable liquid and set light to it, engulfing her head and neck in flames.
Bald scalp
She told the court: "Flames came right up at me. I just put my right hand up to my face, so the right side wasn't as badly burned as the left side. I had glasses on. If I hadn't I would have been blinded.
"I ran to the bathroom and just ducked my head in the water.
"My hair was on fire; my face, my neck was on fire. I think my throat got a bit burnt as well. I lost quite a bit of my hair and my scalp was all burnt. I was baldy there for a while."
She said she assumed that she had been attacked with an aerosol spray or petrol used with a lighter or match, although forensics later suggested lighter fluid was the liquid involved.
She told the court she was taken by ambulance to St John's Hospital in nearby Livingston where she spent two weeks in an induced coma while her burns were treated.
She suffered pain like "stinging nettles" in her face and found it difficult to open her mouth to eat.
She said her hair had since grown back in, but she had been left with significant scarring on her face, neck and chest and had lost most of the cartilage on her ears.
The jury heard a recording of a 999 call Miss Crossan made minutes after she was badly burned. She said she was feeling "very panicky" and "in shock".
Jurors were also shown an image showing the severity of her facial burns taken shortly after she was admitted to hospital.
She told advocate depute Adrian Cottam: "I used to get my pictures taken when I was younger as a model. To look at the modelling pictures and to look at the picture you've just shown, you know it's just terrible."
Under cross-examination by Mr Watson's solicitor advocate, Miss Crossan said she was positive Mr Watson, 36, who also lives in Polbeth, was her attacker.
The trial, before Lord Bannatyne, continues.