Injured boy's mother backs road safety campaign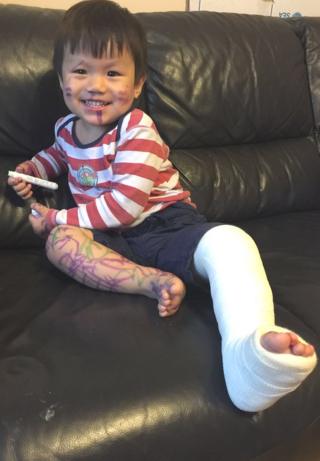 A mother whose son was knocked down by a car in Edinburgh has urged people to keep safe near roads as the police launch a road safety campaign.
Li Dalton has given her support to Police Scotland's vulnerable road users campaign after her son Ryan was hit by a car last month.
The two-year-old was at Hermiston Gait Retail Park with his mother on 14 June when he ran into the path of a car.
He suffered a broken ankle in the accident.
The campaign, which runs until Friday, covers Edinburgh, the Lothians, the Scottish Borders, Fife and the Forth Valley.
'Really thankful'
Mrs Dalton said: "To see your child involved in an accident is one of the most distressing moments of your life and I am extremely thankful that Ryan was not more seriously injured.
"Something like this can happen in the blink of an eye but it's really important that we all do what we can to keep ourselves and our loved ones safe and I'm really glad the police have launched this campaign.
"I think everybody has a part to play in road safety and people driving cars, vans and trucks need to be really careful that they do not cause harm to people on foot or on bikes."
She added: "I'm really thankful that the driver involved in Ryan's accident was driving responsibly and at a suitable speed that meant he didn't suffer any more injuries.
"Parents or anyone caring for young children should also always hold onto their child's hand or use a harness, because even if an area seems safe, there is always a risk of an accident happening."
Police priority
Insp Vinnie Fisher, of Police Scotland, said: "This campaign is not only to ensure vulnerable road users such as pedestrians and those who use bicycles and motorcycles stay safe; it's to make sure other vehicle operators are mindful that we share the road network and that we must do all we can to keep each other safe.
"Reducing the number of casualties on our roads is a priority for Police Scotland and this initiative is about enlisting the support and assistance of the public in helping us to achieve our goals.
"Over the next few days we will be sharing a number of safety messages through our various platforms and I would ask our communities in east Scotland to check out the relevant police social media accounts to see what we're doing."