Long-hidden treasures on display at national museum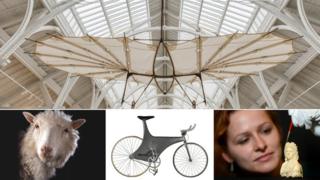 Hundreds of previously hidden treasures will finally go on display at one of Scotland's leading museums this week.
Ahead of the opening of 10 new galleries at the National Museum of Scotland, curators have dusted off scores of almost-forgotten items which have been in storage for generations.
Other more familiar artefacts have been overhauled and refurbished in preparation for the grand opening on Friday.
The development is the latest phase in an £80m project to transform the museum in the heart of Edinburgh.
BBC Scotland has been looking at some of the items which will be displayed in the new galleries.
---
Foster stereo printing press
During the early years of the Royal Scottish Museum - a forerunner of the national museum - it was felt important to be able to show people the machines at the heart of the industrial revolution.
Rather than display the original, huge machines, the museum's in-house model makers produced working, scale models in its own workshops.
Often working solely from the manufacturer's written plans and specifications, they were produced with painstaking accuracy and engineering of the highest quality, using many of the same processes and materials as in the full-sized examples.
The Foster stereo printing press was originally used by the Scotsman newspaper and required a team of printers to operate it successfully. A scale replica was produced at the museum in 1888.
It has now undergone careful conservation so that it can go back on display in the Making It gallery. Over several months experts using some of the original tools used to make the model, have restored it back to working order.
---
Dolly the sheep
One of its more familiar artefacts, Dolly the sheep first went on display at the national museum in 2003 - shortly after her death.
Born on 5 July 1996 at the Roslin Institute, Dolly was the world's first cloned mammal to be created from an adult cell.
Twenty years after her birth, she will be redisplayed in the Explore gallery with fresh interpretation reflecting recent advances in the field.
It will form part of a new display area about genetics, one of several areas of collection display and interpretation in biomedical science.
---
The Jura exchange
In an age of smart phones, tablets and social media, it's easy to forget how we communicated before the advent of Snapchat, Facebook or even text messages.
Between 1949 and 1974, if you wanted to speak to someone on the island of Jura, you would have to go through Effie Macdougall.
As the only telephone exchange operator on the island, she connected calls to or from the mainland or between subscribers on Jura.
It was a lifeline to remote parts of the island and this exchange was typical of many rural and island telephone systems.
She was on call 24 hours a day, seven days a week, 52 weeks a year but in the 1970s Effie and her exchange were finally replaced by an automatic system.
The manual exchange is on display in the Communicate gallery.
---
The Cromartie ivories
These delicate objects made by the ivory sculptor David Le Marchand have only recently been acquired by the museum.
Le Marchand fled France for Edinburgh after Louis XIV's government became increasingly hostile to French Protestants.
During his four years in the capital in the late 1690s, he carved five ivory portraits of the 1st Earl of Cromartie and his family.
They were carved while the Earl was in the process of completing his Edinburgh residence, Royston House, and developing his landholdings of 345 square miles in the newly created county of Ross and Cromarty.
The items are, according to a spokesman for the museum a "very fine and important group of ivory carvings".
They will be exhibited in the Art of Living gallery.
---
Burrows carbon-fibre bicycle
The world's first carbon fibre monocoque bicycle must have looked almost space age to cyclists in the mid 1980s.
It was designed and built in 1985 by Mike Burrows.
He went on to use the same technology to build a machine that Chris Boardman rode to success in the 1992 Barcelona Olympic Games.
The innovation was in the use of a new material, carbon fibre that could be impregnated with resin and moulded into a strong aerodynamic shape, ideal for track racing.
A gallery entitled Technology by Design will host this important feat of engineering.
---
Alexander McQueen boots
Inspired by nature, these exclusive hoof-like, heel-less boots are shod with a horseshoe in the platform.
They were designed by Sarah Burton, who succeeded Alexander McQueen at his fashion house following his death in 2010.
And they show she remained true to his legacy, pushing boundaries and creating dramatic garments and accessories, promoted through a theatrical catwalk show.
Made for the Autumn/ Winter 2012 Paris catwalk show, they were only made to order and are therefore very rare.
They will be displayed in Fashion and Style alongside work by Zandra Rhodes, Vivienne Westwood and Jean-Paul Gaultier.
---
Pilcher's hawk
Pilcher's Hawk will be one of five aircraft to be dramatically exhibited in the national museum's atrium - above the Explore gallery.
One of the older British aircrafts in existence, the glider was built in 1896 by Percy Sinclair Pilcher, a marine lecturer at Glasgow University.
With help from his sister Ella, he constructed it from bamboo pole, metal fittings and wire bracing and covered it with a close-weave cloth called Nainsook.
He flew the Hawk on many occasions and developed the design.
But he died in 1899 while on a demonstration flight in gusty, wet conditions.
A museum spokesman said Pilcher was a "true pioneer" of flight, and he was acknowledged by the Wright brothers for his contribution to understanding the control of aircraft.
The hawk has been restored by the museum ahead of it going back on display.
---