Passenger boost for Lothian buses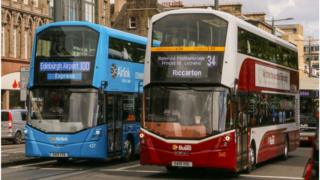 An extra two million passengers travelled on Lothian Buses services in 2015, taking the total for the year to more than 121 million, the firm claims.
It said the increase followed a rise of three million the previous year.
The company's annual report also shows it invested £7.6m in 20 new low emission diesel-electric hybrid buses and 12 new Euro 6 low emission buses.
During 2016, Lothian Buses is to recruit more than 55 new drivers and apprentice engineers.
Lothian Buses is owned by the area's four councils, with City of Edinburgh Council being the majority shareholder.
It is the largest bus operator in Edinburgh and the UK's largest publicly owned bus company.
The company employs more than 2,000 staff and operates more than 700 buses across Edinburgh and the Lothians.
Jim McFarlane, chairman of Lothian Buses, said: "The accounts show that we continue to buck the national trend, once again increasing our passenger numbers and revenue on the strength of the safe, reliable, efficient and highly regarded service that we provide.
"Our strong performance and effective management of cost pressures also mean that we can again return a £5.5m dividend to the shareholders while also investing more in the next generation of environmentally friendly buses as we aim to reduce our carbon footprint further and improve local air quality.
"I must commend the whole team, including our drivers, engineers and management, who continue to deliver one of the best bus services in the UK year after year."