Adults banned from alcohol awareness classes at Edinburgh schools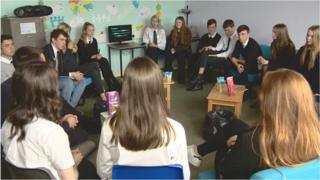 In a classroom at Portobello High School in Edinburgh, a group of teenagers troop happily into a classroom.
Nothing unusual there, except there are no adults present, and the topic is alcohol.
This is the AlcoLOLs project, in which specially-trained senior pupils lead discussions with younger students about Scotland's notorious drinking culture.
It aims to give young people a space where they can talk openly about their own experiences and views, without the bravado or pressure often associated with alcohol.
Sixth-year pupil Hope Eden is one of the AlcoLOLs team.
She said "It reassures young people that not everyone is the same when it comes to alcohol.
"Yes, some people drink, but lots of people don't drink."
Fellow AlcoLOL, Rory Martin, said the message is more effective when it comes from other teenagers.
"With adults it can be a bit preachy, and they don't know what it's like to be a teenager now. With us, we have a bit of seniority, but we're closer in years."
AlcoLOLs was the idea of Emma Wood and colleagues at Queen Margaret University in Edinburgh.
Ms Wood said: "Before AlcoLOLs, what we found was that in the playground people would be talking about drunkenness as if it was really funny, and a good way to behave, and the people that disagreed kept quiet.
"Through AlcoLOLs children hear a much more diverse range of views and they learn that what they thought was true - that everyone drank and that was great - possibly isn't. "
There appear to be benefits in the wider community, according to Verity Ferry, who is the school link police officer for Portobello High School.
She said: "I've definitely seen a real difference in the amount of young people that are drinking, predominantly at the weekend.
"We don't have the same sort of alcohol-related anti-social behaviour like we used to.
"Young people are still out enjoying themselves but they're finding being with their peer groups and extra curricular activities is enough to give them the enjoyment they used to seek through alcohol."
Third year pupil Claire Skelly, who has been attending the AlcoLOLs sessions, said: "It's made me realise that if I don't want to drink alcohol and other people do, I don't have to feel pressured into it, because there are lots of other people who'll be feeling the same way."
Six schools in Edinburgh have now taken part in the AlcoLOLs project.
The teams are now involved in producing a handbook and information so more schools can follow their example.