Pensioner becomes oldest woman to complete 95-mile ultramarathon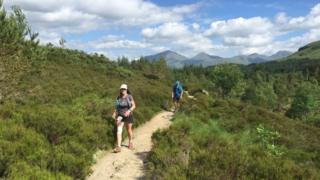 An Edinburgh pensioner has become the oldest woman to complete the 95-mile (153km) West Highland Way in one go.
Norma Bone, 64, finished the gruelling ultramarathon on Sunday after running through two nights and a day from Glasgow to Fort William.
The grandmother-of-four covered almost 15,000ft (4,572m) of ascent and descent to complete the course.
The race director said more people had conquered Everest than had completed the West Highland Way in one go.
Rob Reid, 70, from Tarbert in Argyll, also made the record books this year by becoming the oldest man to complete the race in 29 hours and 58 mins.
Each of the 199 runners in the Ronhill West Highland Way Race had to comply with race rules by having a support crew to help them.
The crews met their runners at stages along the route to give them changes of clothes, food and water.
Runners are also allowed to have a support runner with them for the last 42 miles of the race.
Mrs Bone, who was accompanied by Donald Sandeman and her son-in-law, Tristan Jareckyj, for some sections throughout the second night, told the BBC Scotland news website she was very proud of her achievement.
She said: "I don't know why I did it but it's something that has been very deep inside me for a long-time and I wasn't prepared to sit back without attempting it.
"At one point though Donald was getting worried to the point he was thinking we should maybe stop.
"I knew my brain could get me there but I just didn't know if my body could get to the finish.
"You cannot do this race on your own and I know Donald and his wife Elaine found it very physically demanding being my support crew, which is quite emotional too.
"I am so glad I did it. You have to want to do it. I wanted the goblet they give you at the end for completing it."
The full-time nurse added that she wanted to do the race again next year as she has two children and wanted to get a goblet for each.
Mrs Bone trained with a personal trainer for 18 months before the race.
However, she said that before that she injured her knees on the 53-mile ultramarathon Highland Fling race in 2013 as she had not trained enough for it.
It was her knee which then became "very sore" as she descended Conic Hill at the weekend, only 18 miles into the race.
Race director Ian Beattie, who is also Scottish Athletics chairman, told the BBC Scotland news website, Mrs Bone - a member of Harmeny Pentland Runners - climbed the equivalent of five Munros over the distance, which took her 33 hours and 26 mins.
'Incredible feat'
He said: "The terrain varies and gets tougher the further north you get with the lochside being a very technical section where you have to clamber over boulders and lower yourself down gullies.
"When I saw Norma at Kinlochleven, which is the last point before the final stretch, the determination she showed was incredible despite having a very sore knee.
"It's an incredible feat without any sleep and the mental challenge is huge.
"Only about 1,000 people have ever completed the race so it was very emotional to see Norma crossing the finishing line.
"The rule of thumb is to take a day's rest for every mile of an ultramarathon, so her body will take about three months to recover from this."
Of the 199 runners who started this year's race, 159 completed it.
The race was founded in 1985 and is the second oldest ultramarathon in the world.
The West Highland Way path opened in 1980.