Stranded angler airlifted to safety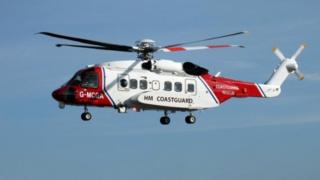 An angler has been rescued by coastguards after becoming stranded on rocks off the Scottish Borders coast.
Members of the public raised the alarm at about 21:40 on Wednesday as the man was cut off by the tide at Eyemouth, with waves 3-4 metres high.
Two RNLI lifeboats and coastguard rescue teams were sent to the scene but the seas were too rough to reach him.
The angler was eventually airlifted to safety by a coastguard helicopter sent from Prestwick.
The man was unharmed and was able to make his own way home.
Jolene Smith, coastguard senior maritime operations officer, said: "As he was being rescued the waves around him were reaching 3-4 metres in height and there is no doubt he was at risk of being washed off the rocks.
"He was wearing hi-visibility clothing that meant we were able to locate him quickly. It really also critical for rock anglers to check weather conditions and tide times before heading out."