Man jailed after jumping from moving car in West Lothian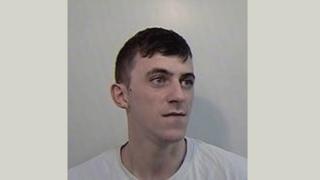 A man who jumped from a moving car in West Lothian to avoid arrest has been sentenced to eight months in prison and disqualified from driving for 10 years.
Driver Robert Laidlaw, 26, leapt from his Ford Focus, leaving his partner and child inside, as it travelled towards Uphall Primary School on Friday.
PC Alan Beattie ran towards the moving car, pressed the footbrake with his hand and pulled the handbrake.
Laidlaw pled guilty to various driving offences at Livingston Sheriff Court.
The driving offences included including driving while disqualified, having no insurance and reckless conduct.
Laidlaw was also sentenced on Monday.
The incident happened at about 12:30 on Friday while uniformed officers were on patrol in a marked vehicle.
Hiding in gardens
PC Beattie and PC Scott Ward ran a check on the black Focus, which showed up as being uninsured.
It was then found heading eastwards on West Main Street, Uphall.
As the car continued travelling towards the primary school car park, Laidlaw jumped out and ran off.
While PC Beattie stopped the car, PC Ward ran after Laidlaw and he was detained after being found hiding in nearby gardens.
Ch Insp Stephen Innes, of Police Scotland, said: "Robert Laidlaw showed a complete disregard for the safety of others, including himself.
"School children, pedestrians and other road users could've easily been hurt due to his behaviour, and it's down to the quick-thinking actions of PC Beattie and PC Ward that no one was injured.
"It is totally unacceptable for anyone to be driving while disqualified and not to mention having no insurance.
"Our officers were simply doing their job, before using their initiative to rescue a situation that could have had tragic consequences."