Edinburgh gathering for Pulse victims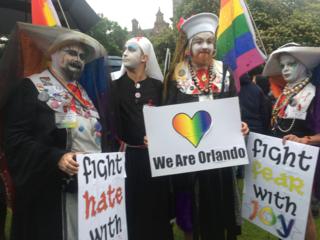 Hundreds of people have gathered in Edinburgh's St Andrew Square to pay their respects to the victims of the mass shooting in Orlando.
The Edinburgh stands with Orlando event follows the death of 49 people at the gay club pulse.
A total of about 300 people were in the Florida nightclub when the attack started. A further 50 of them were injured
It was the worst mass shooting in US history.
First Minister Nicola Sturgeon, Scottish Tory leader Ruth Davidson and Scottish Labour leader Kezia Dugdale were among those in attending.
Ms Sturgeon said: "I can't tell you how important it is to me to be with you here this evening. The last few days have been horrific and heartbreaking beyond words but it has also been inspiring.
"All across the world we have seen people come together in solidarity and that is the comfort I hope all of you and members of the LGBTI community across the world take from such expressions.
"We stand here in defiance of hate with a very clear message - love is love."
Ms Davidson said: "As a woman who moved to Edinburgh to be herself, I know how important LGBTI venues are for people who want to be themselves.
"We stand in Edinburgh in a place where we feel safe and stand in solidarity with people around the world.
"We will become stronger because we have stood here tonight, because we have shown those people that would conduct hate upon our community thay they will not win because love wins, love always win."