Reward of £10,000 offered over Kirkcaldy murder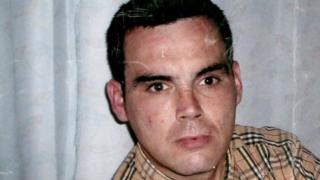 Crimestoppers is offering a reward of up to £10,000 over the murder of a man in Fife.
Darren Adie, 42, was found unconscious on a Kirkcaldy street on Saturday 28 May and later died in hospital.
The charity Crimestoppers is now offering the reward for information that leads to the arrest and conviction of the person or people responsible.
On Tuesday detectives said they believed up to seven people could hold vital information about the death.
Angela Parker, Crimestoppers' national manager for Scotland, said: "The tragic murder of Darren has left his family devastated and wanting answers.
"This is why we are offering a substantial reward for anyone with information to contact Crimestoppers anonymously.
"We don't ask for any personal details, you won't have to speak to the police and you won't have to go to court. Just tell us what you know, not who you are."
The information will only qualify for the reward if passed to Crimestoppers anonymously on 0800 555 111 or through the anonymous www.crimestoppers-uk.org online form.
If it leads to a conviction the caller will be able to redeem the reward via a code given when they provide the information.
Details given directly to police are not eligible.
Seven people
Mr Adie's family said he was "a much-loved son, brother and father".
He was found unconscious on Tweed Avenue near the junction of Lawson Street at about 18:.45 on 28 May.
Police are treating the death as murder and have appealed for information.
They believe seven people saw, or spoke to, Mr Adie before his death and have appealed for them to come forward.
Officers from Police Scotland's major investigations team want to speak to the following people:
Someone known as "Kelly" to whom Mr Adie was shouting between 18:00 and 18:30 in the Overton Mains area, near Overton Road
A man in his 40s, with a balding or shaved head. He had a heavy build and was wearing a T-shirt and tracksuit bottoms. He is thought to have spoken to Mr Adie in passing in Spey Avenue, at the junction with Napier Street, at about 18:45
A man and a woman who were pushing a buggy - possibly a double buggy - in Tweed Avenue walking towards Napier Street at about 18:45
Another man and woman in Tweed Avenue. The man was 6ft tall and in his late 20s or early 30s. He walked with a limp.
A slim-built man with a hooded sweatshirt who was also in Tweed Avenue at 18:45.