Appeal after 'unexplained' death of Nazareth roadie Robert Kennedy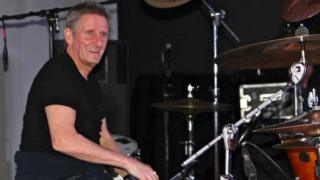 The death of a former roadie with rock band Nazareth is being treated as "unexplained", police have said.
Robert Kennedy, 63, was found unconscious at his home in Dunfermline on 1 June and he died later in hospital.
On their website, Nazareth said: "We are a family on tour and we just lost one of the family."
Detectives investigating Mr Kennedy's death are now trying to piece together his last moments.
They said the roadie was well-known in Dunfermline and his death had come as a "great shock to his family and friends".
In a statement published on Nazareth's website, the band's members said: "It's with great sadness and a collective heavy heart that we announce the death of our dear friend and brother Rab Kennedy.
"As all of you serious Nazareth fans know, Rab was a cherished and much loved member of our road crew for almost 20 years.
"He was an easy going guy with a wonderful sense of humour who made friends all around the world as he toured with the band.
"We're a family when we tour and we just lost one of our family. Our thoughts are with Robert, his dad and his sister Kathleen at this time."
Det Insp John Anderson said officers were following a number of lines of inquiry in relation to Mr Kennedy's death.
They know that he watched the Champions League final with friends on 28 May - the Saturday night before his death - and then they went to the East Port Bar, the City Hotel and the Brass House.
Det Insp Anderson said: "We also know Robert arrived back home shortly after 02:00 but have yet to establish how he got home.
"I'm keen to speak to anyone who saw him that evening, particularly any taxi drivers in the town who possibly took him home.
"I'm also keen to speak to anyone who had contact with Robert between Sunday 29 May and Wednesday 1 June when he was found in his house.
"We have also established during our inquires that Robert had been seen with injuries to his face after he had been to watch a band called Honk at the Leroy Day Charity Gig at PJ Molloys on the evening of Sunday 1 May.
"This was the weekend of the May bank holiday and I would appeal for anyone who recalls seeing Robert that evening or who has knowledge about how Robert may have come by these injuries to contact us."