Detectives believe seven people could help find Darren Adie's killer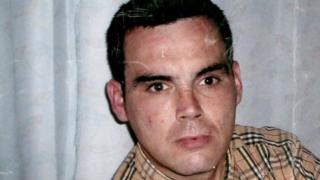 Detectives investigating the murder of a man in Fife believe up to seven people could hold vital information.
Darren Adie, 42, died in hospital after he was found unconscious in a street in Kirkcaldy last month.
Police believe seven people saw or spoke to Mr Adie before his death and have appealed for them to come forward.
Det Ch Insp Raymond Brown said information they may consider "insignificant" could prove "vital" in identifying his killer.
Mr Adie was discovered in Tweed Avenue, close to its junction with Lawson Street, at about 18:45 on 28 May.
Officers from Police Scotland's major investigations team want to speak to the following people:
Someone known as "Kelly" to whom Mr Adie was shouting between 18:00 and 18:30 in the Overton Mains area, near Overton Road.
A man in his 40s, with a balding or shaved head. He has a heavy build and was wearing a t-shirt and tracksuit bottoms. He is thought to have spoken to Mr Adie in passing in Spey Avenue, at the junction with Napier Street, at about 18:45.
A man and a woman who were pushing a buggy - possibly a double buggy - in Tweed Avenue walking towards Napier Street at around 18:45.
Another man and woman in Tweed Avenue. The man was 6ft tall and in his late 20s or early 30s. He walked with a limp.
A slim-built man with a hooded sweatshirt who was also in Tweed Avenue at 18:45.
Det Ch Insp Brown said: "We are keen to speak to these individuals.
"We believe they may have seen Darren and may hold information that, although they may consider insignificant, could prove vital in identifying his killer.
"As such I would urge them to come forward and speak to the police as soon as possible."