Jamie Ross jailed over Edinburgh pawnbroker raid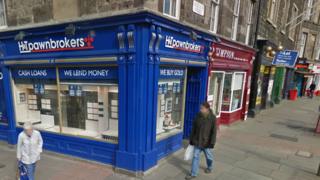 A man has been jailed for five years after carrying out a "smash and grab" raid on an Edinburgh pawnbroker.
Jamie Ross, 21, jumped over a counter and smashed glass cases with a mallet during the raid on Harvey and Thomson Pawnbroker last July.
He threatened to shoot staff if police were called, the High Court in Edinburgh heard.
Drug addict Ross admitted assaulting staff and stealing jewellery worth more than £15,000.
The court heard that Ross carried out the raid on the pawnbrokers in Nicolson Street on July 22 last year.
Gold chains
Advocate depute Lisa Gillespie said members of the public had seen Ross outside the shop acting in a suspicious manner.
"He wore dark clothing, including a tracksuit top fastened close to his mouth with the hood up, concealing most of his face and was carrying a holdall," she said.
One woman was concerned enough to call police and went into the premises to warn staff that she thought the shop was about to be robbed.
Later that day Ross was caught on camera waiting outside a second pawnbroker's shop, while six gold chains he had stolen were sold.