Edinburgh trams carry 5.38m passengers in a year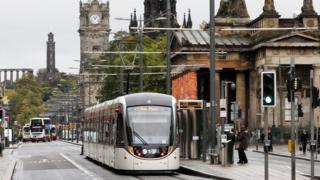 More than five million people travelled on Edinburgh's trams during their second year of operation, new figures have revealed.
Operator Edinburgh Trams said 5.38m people used the service over the last 12 months.
It represented a 9% increase in passenger numbers on the previous year - it was about 340,000 ahead of the target for the period.
In its first year, 4.92m people travelled on the trams.
The company said it was also set to surpass revenue targets by 6%.
George Lowder, the chief executive of Transport for Edinburgh, said the results were "hugely encouraging".
"We are concentrating this year on enhancement of the existing service and are certainly not going to be complacent," he added.
Controversial project
The organisation's chairwoman, councillor Lesley Hinds, said: "There is no doubt Edinburgh Trams is going from strength to strength, as these latest passenger figures show, alongside consistently-high customer satisfaction ratings.
"This is thanks to a great team of staff, who over the last two years have helped make Edinburgh Trams the service it is today, and I look forward to continuing our journey as it develops and expands."
The 8.7 mile (14km) tram route between Edinburgh's New Town and Edinburgh Airport was launched in May 2014.
It was built at a final cost of £776m but it was dogged by controversy over building delays, traffic disruption and spiralling costs.
The Scottish government ordered an inquiry to find out what went wrong with the project.