Gang who planned raid on St Andrews jewellers jailed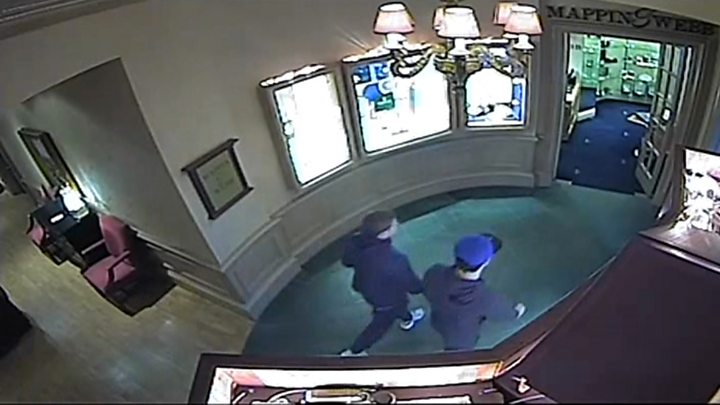 A gang who conspired to commit a robbery that would have "brought terror" to their intended victims have been jailed for a total of 47 years.
The seven men planned to raid a jewellery store at the Old Course Hotel in St Andrews in March 2015.
But police were tracking them and moved in before they could act.
The men bought weapons and two Italian scooters ahead of the robbery. They had also carried out a reconnaissance of the Mappin and Webb store.
Officers spotted four of the London-based gang when they were in the Fife town a week before the planned raid.
The judge at the High Court in Paisley dealt with them based on criminal records, ages and the part they played in the conspiracy.
Kevin Mulheron, 34, who was originally from Glasgow, was sentenced to seven and a half years imprisonment. Judge John Morris QC described him as the "Scottish contact" for the gang who had "provided the Scottish base of operations".
The men used his brother's flat in Govan to finalise plans for the robbery, the court heard.
Armed police arrest
He was joined by Peter Attwood, 44, his son Louie, 21, and Kai McGinley on a trip to St Andrews in late February last year.
The court heard that Peter Attwood hired a BMW in London while his son bought sledgehammers, holdalls, motorcycle helmets, jackets and waterproof trousers.
Two Piaggio scooters were ferried north having earlier been stolen in London, the jury was told.
Police Scotland said the men were all part of a gang the Metropolitan Police Flying Squad believed were responsible for a series of smash and grab robberies in London.
Detectives from the Met liaised with their counterparts in Scotland after establishing the men planned to travel north and commit a similar crime. The group were monitored in a "major surveillance operation" from the moment they entered Scotland, police said.
At sentencing, Attwood - described as a "serial criminal and ringleader" - was jailed for nine years while his son was imprisoned for five years.
McGinley was also sentenced to five years.
All seven members of the gang were arrested by armed police in St Andrews as they prepared to carry out the heist.
Fifty-six-year-old Paul Hogwood, who was also described as a "career criminal", was jailed for 10 years - the longest term handed out by the judge.
During the trial, the court was told that Hogwood made a telephone call while on remand when he said: "If they had turned up 10 minutes later, they would have caught us right in the act."
Thomas Slayford, 20, received a five and a half year sentence and Benson Aluko, 20, was jailed for five years.
The judge told the men: "All of you planned to take part in a conspiracy that would have brought terror to your intended victims."
Following sentencing, Ch Insp Adrian Annandale, the local area commander for North East Fife, said the impact on the local community would have been "devastating" had the robbery been successful.
"This group clearly thought that an area such as St Andrews would not be equipped to deal with serious crime, but they have been proved resoundingly wrong," he said.
"Thanks to the collaboration between local officers, specialist units and partners from the Metropolitan Police, we have prevented what would have been one the most high-profile robberies in Scotland's recent history."