Liam Fee murder trial: Jury sent home until Monday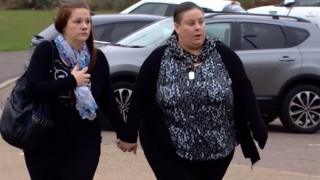 The jury in the Liam Fee murder trial has been sent home until Monday.
The members of the jury retired to consider their verdict on Friday morning. However, the case has now been adjourned until after the weekend.
The judge, Lord Burns, had earlier gone through the options available in terms of the charges against Rachel and Nyomi Fee.
He told members to consider the evidence dispassionately and without speculation.
Rachel, 31, and Nyomi Fee, 29, deny murdering the two-year-old in a house near Glenrothes on 22 March 2014 and blaming his death on another child.
The women, who are both originally from Ryton, Tyne and Wear, deny all the charges against them.
The trial has been running for seven weeks at the High Court in Livingston.