Woman injured in car and lorry crash in Edinburgh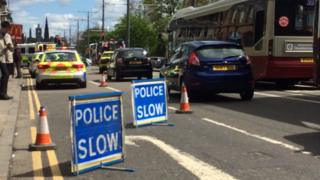 A woman has been injured in a crash between a car and lorry in Edinburgh city centre.
The incident happened at about 12:30 on the corner of South Charlotte Street and Princes Street.
Witness Ken Greig, 56, from Edinburgh, said: "The lorry is at a 45 degree angle as it was turning into South Charlotte Street.
"The car is now wedged under the lorry and the car roof is nearly off."
He added: "There is a woman being treated in a chair beside the car.
"There is traffic chaos with cars backed up as far as Haymarket Station and up Lothian Road."
Police Scotland said a female driver of the car was being treated for minor injuries.