Edinburgh road rage taxi driver has licence suspended by council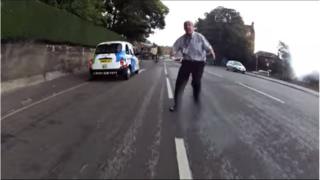 A taxi driver who attacked a cyclist after waiting for him in the middle of an Edinburgh road with his fists raised has had his licence suspended.
City Cab driver Brian Allen, 69, is seen on head-cam footage having a row with the cyclist on Princes Street and then later waiting for the rider on Regent Street on 28 August 2015.
Last month, Allen pleaded guilty to careless driving and assault.
Councillors will decide if he should lose his licence permanently in June.
He was fined £360 and given nine penalty points for careless driving and admonished and dismissed for assault when he was sentenced last month at the Justice of the Peace Court.
City of Edinburgh Council suspended his licence pending a hearing at the licensing sub-committee.