Former gatehouse to reopen to public at Edinburgh's Royal Botanic Gardens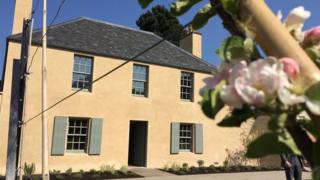 The historic former gatehouse to Edinburgh's Royal Botanic Gardens has been restored and is to reopen its doors to the public.
First built in the 18th Century, it marked the entrance to the old site of the gardens on Leith Walk.
In 2008 it was earmarked for demolition, but campaigners secured a grant to rebuild the cottage.
The original stones were moved one by one to the garden's current home in Inverleith.
Following its official opening on Tuesday morning, the Botanic Cottage will be used by community organisations, local societies and educational groups.
Simon Milne, Regius Keeper at the Royal Botanic Garden Edinburgh, said: "The completion of the botanic cottage is such an achievement for everyone involved.
"It's taken a lot of grit, determination, skill and commitment to get the building from Leith to Inverleith, and reconstructed, and I appreciate the efforts of everyone who has played a part in bringing it back to life.
"As a focus for education and community work, the building is a perfect space, and we hope that the groups using it in the years to come will be inspired to greatness by the history in the walls, the glorious setting and the unique craftsmanship around them."
The £1.65m project was funded from trusts, foundations and individuals with the Heritage Lottery Fund providing the largest single grant.