Liam Fee murder trial: High Court told of 'blood-curdling scream'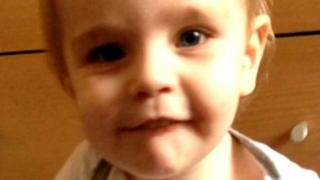 The mother of Liam Fee described hearing a "blood-curdling scream" as she learned her son was dead, the High Court in Livingston has heard.
The jury has been listening to a police statement made by Rachel Fee in the hours after the two-year-old boy died in Glenrothes, Fife, on 22 March 2014.
She said her partner Nyomi went to check on Liam at about 19:00 and seconds later she heard screaming.
Rachel Fee told detectives she ran into his bedroom to find Liam "lifeless".
The 31-year-old and her partner Nyomi Fee, 28, are accused of murdering Liam and attempting to defeat the ends of justice by blaming the killing on a young boy.
They are also charged with a catalogue of allegations that they neglected Liam and abused two other children, one of whom they blame for killing Liam, while in their care over a two-year period.
The women, who are both originally from Ryton, Tyne and Wear, deny all the charges against them.
'Like choking'
In the police statement, Rachel Fee told police how she ran into Liam's bedroom and "immediately saw he was pure white and lifeless".
She described Nyomi making a 999 call and her partner's efforts to help Liam.
In the statement, Rachel also told of confronting a seven-year-old standing at the bedroom door.
She said: "As I was screaming at him and shaking him, asking him what he'd done, he just looked at me and put his hands up to his face.
"He put one hand on his mouth and the other round his neck. The hand over his nose and mouth was like he was suffocating and the hand on his throat was like choking."
Under cross examination by her defence counsel Brian McConnachie, the detective who conducted the interview described the scene at the house as "pandemonium".
Det Con Gary McMillan also said he had heard either Rachel or Nyomi shout the words "evil" and "pervert" at the seven-year-old but could not recall which of them had spoken.
Another officer, Det Con Douglas Moyes, gave evidence that he recovered items allegedly used by the Fees to make a makeshift cage, including a fireguard.
The trial has previously claims that a young boy was sometimes made to sleep in such a cage.
The trial continues.