Liam Fee murder trial: Nursery staff 'had concerns' before boy's death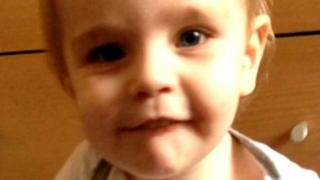 A woman accused of murdering her toddler son removed him from nursery after staff contacted social services, a court has heard.
A friend of Rachel Fee said she told her that staff felt "there were a few issues" regarding two-year-old Liam Fee.
Rachel Fee, 31, and her partner Nyomi Fee, 28, deny murdering Liam in March 2014 at a house in Glenrothes, Fife.
They also deny ill-treating two other boys.
Elizabeth Wilson, 41, told the High Court in Livingston she became friendly with Rachel Fee when they both kept horses at Grantsmuir Farm near Kirkcaldy.
She said she was aware that Liam attended nursery but was told by Rachel he had stopped going.
Advocate Depute Alex Prentice QC, prosecuting, asked: "Did Rachel give a reason why it stopped?"
'Autistic claim'
She replied: "Because they had phoned social services. There were a few issues and they called social services on them, I think."
Ms Wilson described an occasion when she met the couple outside a shop and saw Liam in a buggy with a blanket over his head.
Asked what Rachel had said to her, Ms Wilson replied: "Don't speak to him or look at him because he'd play up or it would upset him, or something to that effect. Just because she claimed he was autistic."
Ms Wilson described another occasion when she had been giving Rachel Fee a lift in her car and the other woman's phone rang.
She said: "I think it was the health visitor. I think Liam was due for a check-up and she just said she wasn't going to answer it.
"She didn't want to take Liam down because he'd scratched himself and he had a few marks on his feet. I said, 'Just answer the phone and take him down. If there's no problem, just take him'."
Rachel Fee and Nyomi Fee also deny a catalogue of allegations of wilfully ill-treating and neglecting two other young boys.
Ms Wilson described another occasion when Rachel Fee told her she had washed one of the boys' mouth out "with washing liquid or soap" after he swore at her.
The witness also said Rachel Fee once cancelled a lift to take one of the boys to hospital because he "had blisters on his feet which had turned to gangrene".
Ms Wilson said she had been told the injuries were the result of tight plimsoles and that her friend had later shown "horrific" photographs of the boy's injuries to people at the horse yard.
'Lots of snakes'
The court had earlier heard a young boy was "scared" of being punished when he stayed with the two women accused of murdering Liam.
Jurors saw video footage of a police interview with the young witness who said he was tied to a chair in a locked room all night with a boa constrictor.
He said: "They had lots of snakes. They had a boa constrictor and they were threatening me, saying that it might come out and eat me, because they eat little boys as well if they are bad."
Rachel Fee and Nyomi Fee, who are originally from Ryton, Tyne and Wear, are accused of murdering Liam in March 2014 and attempting to defeat the ends of justice by blaming the killing on a seven-year-old boy.
The couple are also charged with a catalogue of allegations that they neglected Liam and abused two other children in their care over a two-year period.
One of these boys is the witness the jury heard from while the other is the child they are accused of falsely blaming for Liam's death.
They deny all the charges against them.
The trial at the High Court in Livingston continues.