RAF concern over Dunbar drone sighting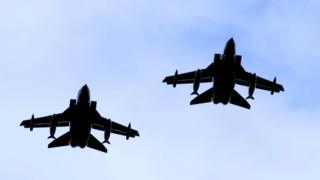 The RAF has raised safety concerns after two jets reported flying within 500ft (152m) of a drone over East Lothian in January.
The Tornado jets were flying at 1,500ft (457m) near Dunbar when they spotted the remotely-controlled aircraft.
The Air Proximity Board noted the incident as a "conflict of airspace".
In its submission the RAF said there was considerable concern in the military community about the proliferation of drones.
The Air Proximity Board report said one of the pilots assessed the risk of collision as "low" and no avoiding action was necessary.
The drone operator could not be traced.
The RAF submission said: "The proliferation of small unmanned aircraft (SUA) and the difficulty in policing the regulations in terms of operating areas and altitudes, continues to raise considerable concern within the military flying community.
"The formal investigation of this Airprox found that the only active barrier to mid-air collision was the use of lookout by the Tornado crews and the SUA operator.
"The speed of approach of the Tornados would have made it very difficult for the SUA operator to detect and avoid those aircraft, particularly when operating at the heights quoted by the Tornado crews."
Drone operators are not normally allowed to fly their aircraft above 400ft (122m).
However, Civil Aviation Authority guidance issued last year allows them to flown up to 1,000ft (305m) in certain circumstances if an observer maintains direct, unaided visual contact with the drone.
The Airprox Board said the difficulties in assessing the height of such aircraft, meant it could not say with certainty that the law had been broken.
The increasing popularity of drones has led to numerous warnings about the risk of mid-air collision.
Earlier this month it was reported that a British Airways jet may have collided with a drone on approach to Heathrow Airport, however, a subsequent investigation said this was unlikely to have been the case.