Edinburgh school closures: Some pupils moved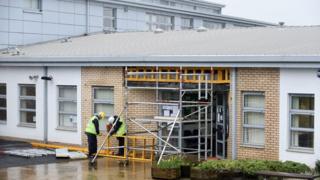 A number of primary school children caught up in Edinburgh's schools crisis are being moved to "a more appropriate teaching environment" following complaints from parents.
The P6 and P7 pupils from Oxgangs Primary were moved to the Wester Hailes Education Centre after their school was closed on safety grounds.
However, from Wednesday, they will be moved to Niddrie Mill Primary School.
Parents objected to the state of the buildings.
The council also said it was reviewing the transport arrangements for S1-S3 pupils from Craigmount and Gracemount High to address concerns about the length of the school day.
School closures
Emergency work carried out at schools
17
Schools closed over safety fears
7,600 Primary and secondary pupils affected by the closures

61 Alternative schools are being used

655 Teachers relocated

70 Bus services laid on to transport pupils
Scott Arthur
Alistair Gaw, City of Edinburgh Council's acting executive director of communities and families, said: "We have responded to concerns raised by some parents and new arrangements for Oxgangs P6 and P7 pupils have been put in place within a primary school environment at Niddrie Mill Primary.
"In addition, we are also reviewing bus timetables with the aim of extending the school day for secondary school pupils.
"We will continue to monitor the situation and make adjustments to arrangements as required.
"These arrangements are temporary, and we continue to press Edinburgh Schools Partnership for further information about the PPP1 schools.
"We recognise this has been a challenging time for parents and pupils and I'd like to thank them for their patience and support.
"I'd also like to pay tribute to teachers across the city for their dedication and professionalism in responding to the situation, and helping make the alternative arrangements work in practise."