Closed Edinburgh schools' reopening details due next week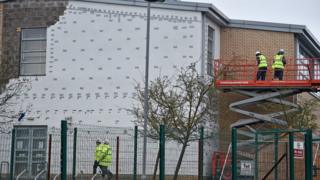 The City of Edinburgh Council has said it does not expect to get details of when its 17 closed schools will reopen for pupils until the end of next week.
The schools failed to reopen after the Easter holidays because of building safety concerns.
The forced closures affected 7,600 primary and secondary pupils and 740 nursery pupils.
The council's chief executive Andrew Kerr said he was disappointed by the lack of survey results.
Edinburgh Schools Partnership manages the schools for the council.
Mr Kerr said: "We have been in constant dialogue with the Edinburgh Schools Partnership, and they are aware of our concerns. It is important that we have clear information regarding the condition of these schools, and when they will be safe to reopen.
"I know that parents, teachers and pupils will share my frustration at this delay. The safety of our children is our number one priority and we all want our schools to reopen safely, as soon as possible.
"We are doing everything we can so ESP can provide the council with the information which will allow us to make a decision regarding the next steps."
Contingency plans
The schools were closed on Monday 11 April. All pupils have now been accommodated in alternative schools.
Contingency plans have been put in place for all pupils affected by the closures who are due to take exams in May.
An Edinburgh Schools Partnership spokesman said: "We are in daily contact with the council and our teams are working exceptionally hard to complete the agreed programme of inspections and assessments.
"While we are focused on getting this programme completed as quickly as possible, we also must ensure that our investigations across all 17 schools are thorough and robust for the safety of the pupils and staff.
"There has been significant progress with the structural surveys and we expect that most or all will have been provided to the council by the end of next week."