Edinburgh school closures: Most pupils back in classrooms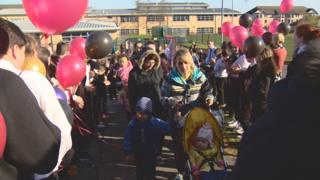 Most of the children hit by the Edinburgh schools crisis are resuming their education.
Seventeen schools remained closed after the Easter break over safety concerns.
Temporary arrangements have been put in place for all the children but some could face weeks or even months of disruption while buildings remain shut.
Some parents have called for an inquiry into why faults were found in the schools which were built using private finance about 10 years ago.
Older students due to sit exams soon all returned to school last week.
On Tuesday, all primary school children were due back, along with the majority of the younger students in secondary schools.
Everyone affected should have returned to classrooms by Wednesday.
But finding accommodation has been a big challenge for the City of Edinburgh Council.
Most of the 17 school buildings remain closed and they may remain shut for weeks or even months - so pupils are being housed in other schools, temporary classrooms and other buildings.
Some will have long daily journeys to the alternatives schools, with special buses laid on.
School closures
Emergency work carried out at schools
17
Schools closed over safety fears
7,600 Primary and secondary pupils affected by the closures

61 Alternative schools are being used

655 Teachers relocated

70 Bus services laid on to transport pupils
Scott Arthur
Five secondaries, 10 primaries and two additional support needs schools were closed earlier this month.
A series of inspections revealed construction defects at all 17 schools built under the PPP1 project.
The problems, identified after a school wall collapsed, relate to missing ties used to support building walls.
It has since been confirmed that the construction company which built the schools - not the council - signed off the completed buildings using a self-certification scheme.
Parents of pupils at the closed schools have raised concerns about the time lost in the classroom because they are having to travel further to different schools.
One city councillor claimed this could mean the loss of up to 55 hours this term if they continue to be decamped.
Edinburgh City Council said the relocation of pupils and their teachers had been "a huge logistical exercise".
A spokeswoman added: "Whilst we understand and share parents concern about any missed or delayed class time, as we keep the situation under review, we will revise the arrangements and make adjustments accordingly."