Teenagers charged over Raith Rovers break-in and vandalism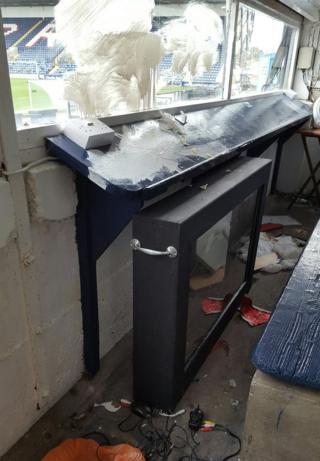 Two boys aged 15 and a 17-year-old girl have been charged after Raith Rovers Football Club's stadium was broken into and vandalised.
A four-figure sum of damage was caused at the Kirkcaldy club's Stark's Park between 17:30 on Tuesday and 09:00 on Wednesday
The press box was vandalised and items including a scoreboard, electronic equipment and a bicyle were stolen.
Club chief executive Eric Drysdale said: "This was an appalling act."
Mr Drysdale, who has been a director at the club for 17 years, said they faced a race against time to repair the damage before the next home game against Falkirk on 23 April.
He said: "There is paint and sick all over the press room. There is a four-figure sum of damage.
"This is an appalling act of vandalism and theft, and I am glad that arrests have been made.
"Police inquiries are continuing, but if anyone can help us recover any of this equipment, I'd be very grateful.
"Obviously, the priority for the club meantime will be to try and get a press area operational in time for next Saturday's game."