Gang guilty of robbery bid at Old Course Hotel jewellers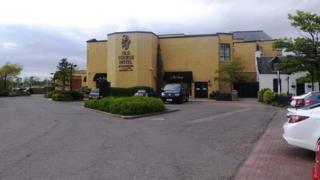 A seven-man gang has been convicted of conspiring to rob an upmarket jewellery store at the Old Course Hotel in St Andrews.
The men bought weapons and two Italian scooters in preparation for the raid at the Mappin and Webb store in March 2015.
But police had been trailing them and moved in before they could act.
Kevin Mulheron, 34, originally from Glasgow, will be sentenced later with the rest of the London-based gang.
They were Thomas Slayford, 20, Paul Hogwood, 56, Peter Attwood, 44, Benson Aluko, 20, Kai McGinley, 18, and Louie Attwood, 21.
The High Court in Glasgow heard the group used the home of Mulheron's brother in Glasgow's Govan area to finalise plans for the raid.
Peter Attwood and his son Louie had previously joined Mulheron and McGinley to travel to St Andrews in late February last year.
'Mobile phone footage'
Police officers spotted Attwood and McGinley walking around the plush Old Course Hotel in the Fife town.
Prosecutors said they believed the pair were carrying out reconnaissance by recording footage of the jewellers on mobile phones.
Before leaving, Attwood bought a £65 jumper at the hotel - apparently for his grandfather.
They later returned south, but the gang - minus Louie Attwood - were back in Scotland just over a week later.
Peter Attwood had hired a BMW in London while his son bought sledgehammers holdalls, motorcycle helmets, jackets and waterproof trousers.
The jury heard two Piaggio scooters were ferried north having earlier been stolen in London.
'Nippy and agile'
They were chosen for being "nippy" and "agile" to get away from a crime scene quickly.
The court was told that on 3 March, McGinley bought a knife and cleaver from the then Crocketts hardware store in Glasgow. Mulheron bought a roll of tape.
Four of the gang were spotted travelling in the BMW. Hogwood and a black male - believed to be Aluko - were thought to be in a Transit van.
The gang teamed up in St Andrews where all six were arrested near the hotel.
The jury was told Hogwood later made a telephone call while on remand.
'Vital teamwork'
During it, he said: "If they had turned up 10 minutes later, they would have caught us right in the act."
Judge John Morris QC deferred sentencing for reports.
Det Insp Stevie Sandilands, from Police Scotland's Organised Crime and Counter Terrorism Unit, said working with the Metropolitan Police had been "vital" in the lead-up to the arrests.
He said: "I would like to thank the Met for their proactive and swift assistance, which ultimately helped us stop a potentially violent and dangerous incident taking place."