Three men charged with hare coursing in East Lothian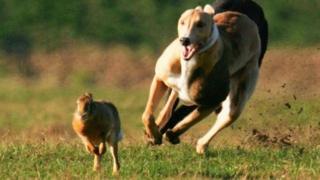 Three men have been charged with hare coursing near Gifford in East Lothian.
The men aged 23, 26 and 31 were arrested on Wednesday and as part of their bail conditions banned from returning to the countryside in East Lothian.
Police Scotland have condemned hare coursing as a "barbaric practice" and warned that anyone involved in it will be "robustly dealt with".
The men are due to appear in court at a later date.
A vehicle the trio were using has also been seized.
Insp Alan Hogarth, of Police Scotland, said: "Hare coursing is an utterly barbaric practice, which not only inflicts great suffering on the animal but is widely condemned by our communities.
"This crime will not be tolerated within East Lothian and anyone found to be involved will be robustly dealt with."