Award-winning Edinburgh development Atria sold for £105m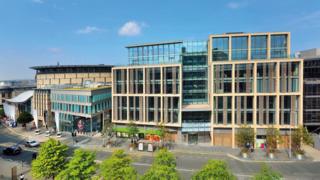 An award-winning office development has been sold to a German real estate investment company for £105m by Edinburgh council.
Atria, next to the Edinburgh International Conference Centre in the heart of the city's financial district, was put up for sale in October 2015.
Deka Immobilien, a global real estate investment company based in Germany, has bought the development.
The council said it had always planned to sell it once it was completed.
Atria Edinburgh opened in May 2013.
'Right economic conditions'
Gavin Barrie, Edinburgh's economy convener, said proceeds from the sale would be used to repay money borrowed to build the development, bolster the council's strategic development fund - which was set up in 2013 to help create new development opportunities, support business innovation, deliver jobs and promote economic growth in Edinburgh - and help deliver the council's transformation programme.
He said: "I'm delighted that we have concluded the sale of Atria.
"This is a further endorsement of the council's decision to create an innovative funding package to develop much needed Grade A office space in the city to attract new, and retain existing, businesses in the capital while also cross-subsidising the cost of an expansion to the Edinburgh International Conference Centre (EICC).
"The fact that we have been able to attract investment into Edinburgh from a major overseas real estate company is testament to the quality of the building and its occupiers."
He added: "Our plan was always to sell Atria once the development was completed and the economic conditions were right to achieve the best possible return for the council's investment and I believe we have achieved this."
Atria is home to some leading names from business and finance including PwC, Brewin Dolphin, Aon, IBM, the UK Green Investment Bank, the Law Society of Scotland, Alliance Trust, Lothian Pension Fund and the EICC.
Retailers include the Co-operative Food and Café Klaris.