Boy, 8 and woman 36, killed in A92 crash in Fife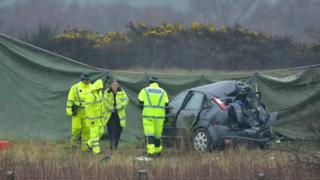 A woman and an eight-year-old boy have died after a crash involving a car and a lorry in Fife.
The incident happened at about 14:55 on Monday on the A92, north of the Redhouse Roundabout, Kirkcaldy.
The boy was declared dead shortly after the crash while the woman, 36, later died at Victoria Hospital, Kirkcaldy.
Another child, aged nine, suffered serious facial injuries in the collision involving a Ford Focus car and an Iveco lorry.
The driver of the lorry and a 36-year-old male passenger in the car were not injured.
The road was closed for seven hours for a police investigation. Witnesses are being asked to come forward.
Insp Brenda Sinclair, of Police Scotland, said: "Tragically this collision has resulted in a second death and our thoughts are with the families of everyone involved.
"A full investigation to determine what happened is ongoing and I would reiterate our appeal for witnesses.
"If you saw this collision take place, or if you have information relevant to our inquiries then please contact police immediately."