Health centres to be built in Edinburgh and Blackburn in £27.6m project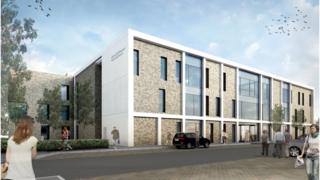 Three health centres are to be built in Edinburgh and West Lothian in a £27.6m partnership project.
The costs for each of the new centres will be £12.1m for North West Edinburgh in Muirhouse, £7.3m for Firrhill and £8.2m for Blackburn in West Lothian.
The three centres will offer a range of health services, with one also including a sports hall and a library.
Construction of the three centres will start over the next few weeks and they will open to the public in late 2017.
The centres are being built through a partnership between NHS Lothian, the City of Edinburgh Council and West Lothian Council.
Susan Goldsmith, NHS Lothian finance director, said: "The three new buildings will help to better connect health, social care and council services, therefore improving how services operate for patients and service users.
"Bringing services together in one place will also help to improve access for communities throughout Edinburgh and West Lothian."
Firrhill will have community nursing, physiotherapy and podiatry facilities.
There will be a new GP practice and additional physiotherapy, podiatry, dentistry and child health services at the North West Edinburgh centre.
The Blackburn Partnership Centre will have a new GP practice, a community health centre, a dentist, a community centre (including sports hall, IT training suite and multi-purpose, early years and young people's spaces), a library, a customer information service centre, an employability service and a credit union.
Councillor Frank Toner, chairman of the West Lothian integration joint board, said: "The new Blackburn Partnership Centre will deliver much-valued improved community and health facilities for the local community.
"Blackburn residents have played a key role in shaping the proposals for the centre."
Councillor Ricky Henderson, vice chairman of Edinburgh Health and Social Care Partnership, said: "This is a another good example of an effective partnership approach, good for local communities and good for improving health in Edinburgh."