Children reported over Newport-on-Tay graffiti spree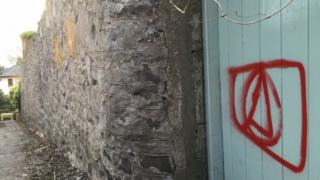 Two children have been traced by police following a spate of graffiti vandalism in Newport-on-Tay.
The two 12-year-olds have been reported for 24 separate offences in the north-east Fife town.
The graffiti incidents happened between 15 and 16 March. Members of the public found spray paint on vehicles, garages, fences, walls and stone gate posts.
Properties in Sylvan Lane and Linden Avenue were among those targeted.
PC Susan Martin said: "This crime shows an utter disregard for the feelings of the people concerned, and has caused outrage in the community.
"Vandalism affects local quality of life and there is a significant cost to individuals, businesses and public services.
"We want to make sure the people ruining the quality of life in our area are brought to justice.
"I would like to thank the public for their assistance in providing us with the information that helped us trace these suspects."