War veteran receives Legion of Honour at North Berwick ceremony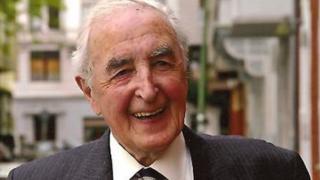 An East Lothian World War Two veteran has been presented with France's highest military honour for his war service 71 years ago.
William Robertson, from North Berwick, received the Insignia of Chevalier de la Legion d'Honneur.
It was presented by French Consul General Emmanual Cocher.
The 90-year-old's unit was the 5/7th Gordon Highlanders, one of the battalions of 153 Brigade of the 51st Highland Division.
Mr Robertson received the medal at a ceremony in the Hope Rooms, North Berwick.
He said: "I was an enthusiastic 18-year-old Private in the Gordon Highlanders when we crossed the English Channel to France, and saw actions in Belgium, Holland and Germany - including the night assault crossing of the River Rhine on 23 May 1945."
Mr Robertson went to Perth Academy before becoming an articled clerk in London with his uncle's firm, moving on to work for Dunlop and marrying in Perth in 1953.
He was then posted to Rhodesia in 1961 where he became a director of the company 11 years later and he and his wife returned to the UK in 1986.