National Museum of Scotland workers step up strike in pay row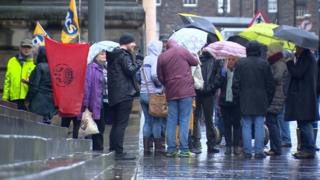 The dispute over weekend pay among staff at the National Museum of Scotland is to be escalated.
The Public and Commercial Service union (PCS) has called weekend strikes beginning at Easter, and running throughout the Scottish election period.
Previous walkouts have closed the museum at busy holiday periods.
The union said allowances for weekend working were withdrawn three years ago, creating a two-tier workforce.
It said Scottish ministers had failed to intervene, even though SNP MPs voted at Westminster in favour of weekend pay premiums for shop workers.
Government grant
Lynn Henderson, PCS Scottish secretary, said: "Our members at the museum are angry that this dispute has dragged on so long.
"These low-paid workers are withdrawing their labour in frustration at their management's intransigence, and the two-faced hypocrisy of SNP leaders to support weekend premiums for shop workers whilst denying the same allowance to public sector workers employed by their own administration."
A National Museums Scotland spokeswoman said: "Currently under a third of staff who work weekends at National Museums Scotland receive weekend payments.
"These payments have not been, and are not being, withdrawn from these staff, who were all employed before 2011.
"PCS is however demanding the introduction of weekend payments for all staff who work weekends.
"This would cost the public purse over £420,000 each year. This is not affordable, following significant cuts to our government grant over the past 10 years and the challenge of a further cash cut which we face from 1 April."