Man jailed for raping sleeping woman in Edinburgh flat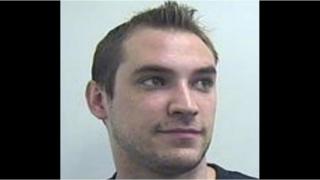 A man has been jailed for six years for raping a sleeping woman after climbing into her bed in an Edinburgh flat.
Richard Smith, 27, from Edinburgh, attacked the 30-year-old in Dalry following a night out on 2 August 2014.
Smith had denied rape but was found guilty at an earlier trial in Glasgow.
A judge told him at the High Court in Edinburgh: "It would be wholly wrong for me even to contemplate not imprisoning you for a significant period for the crime of rape."
'Screaming and shouting'
Smith's trial heard how he was part of a group that had returned to the flat after a night out at the Lulu club in Edinburgh, where he worked as a barman at the time.
He had continued drinking and was demonstrating magic tricks.
He later went to a bedroom where the woman was already sleeping. One witness said "screaming and shouting" came from the room.
She said when the door was opened, Smith "seemed to be cowering in the corner and she was battering him with an ironing board".
The court heard that the victim was "hysterical" and screaming: "Get out, get out."
The attacker appeared "quite chilled" and went back to bed. Police had to wake him when they arrived at the flat later that morning.
Defence counsel Frank Gallagher said that Smith "steadfastly maintains his innocence".
"He is a young professional man who has never been in trouble before with the authorities," he told the court.
Mr Gallagher said Smith fully appreciated the judge had no alternative but to impose a custodial sentence following the conviction.
Lord McEwan told Smith: "A jury at Glasgow convicted you of substantially all of the charge in this case and I have to respect that verdict."
Smith was placed on the sex offenders' register.