Edinburgh one of the worst cities for road congestion in UK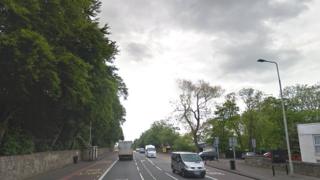 Edinburgh has been named as one of the worst cities for road congestion in the UK in a new survey of traffic conditions.
The capital ranked 12th in the top 20 British cities surveyed by road traffic analyst, Inrix, for its 2015 Traffic Scorecard.
A 5.3-mile stretch of the A8 from Princes Street to Maybury Road was the most congested road.
Drivers spent an average of 43 hours in traffic jams on the A8 in 2015.
'Beach holiday'
Greg Hallsworth, Inrix traffic analyst, told the BBC Scotland news website, they collected the anonymous data from GPS systems, which he said were fitted to most cars in the UK.
He said: "We have billions if not trillions of data points in 45 countries, which we use to collect data from cars, trucks, cabs and cars.
"It is an automated process, that crunches GPS positional data, which we use to work out where congestion is forming.
"We then use the normal road speed against the lower congestion speed and work out how many minutes extra are being spent on that particular road.
"The time each driver spent in 2015 on the A8 in Edinburgh could compare to about a week of work. I would rather be on a beach on holiday rather than looking at the back of a car."
Lesley Hinds, Edinburgh city council's transport convener, said: "We are committed to reducing congestion in Edinburgh and are constantly looking into ways of reducing the number of cars on our roads.
"Our excellent public transport network plays a key role in doing this, and both Lothian Buses and Edinburgh Trams services, which serve the area in question, continue to see passenger numbers increase.
"Our approach to active travel also aims to promote cycling and walking as alternative modes of transport, with an annual 1% increase in spending on cycling infrastructure."