Man stabbed in 'large scale' Glasgow east end fight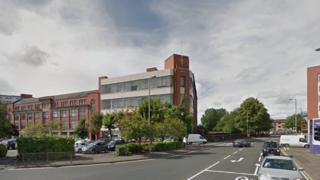 A 19-year old man was found stabbed and slumped on a bench after a "large scale disturbance" in a residential area of Glasgow on Saturday afternoon.
Police are appealing for information about the incident which happened at about 16:45.
The fight, on London Road near to Templeton Street, Calton, involved men and at least one woman.
The man was seriously injured but hospital staff said his condition was stable.
He was taken by ambulance to the Glasgow Royal Infirmary.
Slumped on bench
Det Sgt Andrea Templeton of London Road CID said: "The injured man had been found by members of the public slumped on a bench opposite the play park in Templeton Street. It would appear he had been stabbed during the fight.
"We had a number of calls from the public regarding this fight which we know involved men and at least one woman.
"It happened in a residential area near a main road in the middle of the afternoon when there would have been plenty people and vehicles about."
She added: "Door to door checks are being carried out and officers are also checking CCTV, however, I would appeal to anyone who witnessed the incident, who has not already come forward, to contact police via 101 or Crimestoppers on 0800 555 111, where they can give information in confidence if they wish."