David Bowie self-portrait up for sale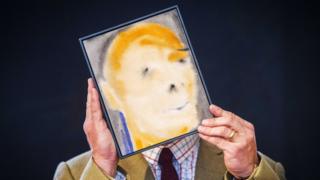 A self-portrait by music legend David Bowie is going up for auction in Edinburgh.
The artwork, titled DHEAD, was donated for the fundraising ARTAID 98 exhibition in the city in 1998.
Bowie died on 10 January this year after a private 18-month battle with liver cancer.
His portrait is going on sale at Lyon & Turnbull's contemporary paintings sale next week and is valued at between £3,000 and £5,000.
A one-time art school student, Bowie's paintings focus on abstract head studies influenced by the bizarreness and esotericism of 1930s era German Expressionist art.
Charlotte Riordan, picture specialist at Lyon & Turnbull, said: "Best known of course as a singer/songwriter, Bowie's entire career was spent actively blurring the lines between the art forms of music, performance and design; the visual playing as big a part as the aural."