Edinburgh rapist Robert Gill plied boys with cannabis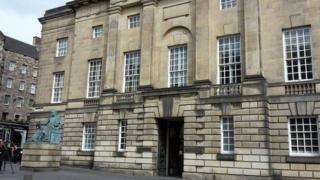 A rapist who preyed on boys after plying them with cannabis has been jailed for 10 years.
Robert Gill, 41, formerly of East Claremont Street, Edinburgh, abused youngsters in the city and Bo'ness over a 22-year period, starting in 1993.
A judge told him there could be no excuse for such crimes against "young, vulnerable children".
"A lengthy prison sentence is inevitable," he added before jailing him at the High Court in Edinburgh.
Lord Glennie pointed out that a significant number of his crimes involved grooming boys whom he befriended before molesting them.
The judge told Gill: "In addition, you provided some of your victims with illicit drugs to gain their trust."
He described three of the charges as "of the utmost seriousness" and said his actions would inevitably have damaged the children he had come into contact with.
Lord Glennie said he noted that Gill continued to protest his innocence but said that following the jury's decision in his case a lengthy prison sentence was inevitable, both to act as punishment and to "send out a message to others".
He also ordered that Gill be placed on supervision for a further period of three years and told him: "It is clear you continue to pose a serious risk."
The judge told him that he was aware of an alleged physical attack on him last year, but said it was for the authorities to deal with that matter.
Indecent images
Gill, who at one stage ran an ice cream van, provided victims with cannabis, tobacco, trips and treats before committing a catalogue of offending against seven boys.
He committed crimes against seven victims beginning in 1993 and continuing up to last year, with a 13-year gap in his offending.
He was convicted of rape, sexual assaults, indecency offences, indecent images of children, drug supply and production offences. He distributed indecent images of one teenager via the social networking site Facebook.
One of the boys was abused during trips to the Royal Commonwealth Pool in Edinburgh.
Defence counsel Brian McConnachie QC said Gill had been assessed as posing a medium risk of further general offending but was deemed a high risk of sexual re-offending.
He said there was a very long gap in his offending between 1997 and 2010 when he did not come to the attention of the authorities.
He said Gill had been in a relationship which ended in 2009. Following the breakdown he had difficulties which resulted in him being prescribed anti-depressants and he turned to using and growing cannabis at a house in Bo'ness.
In addition to his jail term, he was also placed on the sex offenders register.