Dalkeith Country Park access changes planned as part of upgrade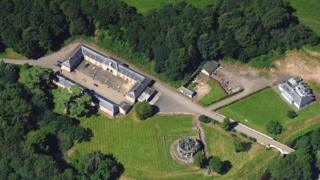 New public access arrangements have been announced as part of a multi-million pound upgrade of Dalkeith Country Park in Midlothian.
A new adventure playground together with cafes, restaurants and shops are set to open this summer.
The park's owner, Buccleuch, said it needed to improve security while ensuring as wide access as possible.
It means that from 21 March the park's main gates will close to vehicles from 7pm through to 7am.
A £1 charge for one-off visitors will be maintained alongside an annual Friends of Dalkeith Country Park pass card for regular users starting at £10.
Pedestrian users will be able to gain access at all hours by purchasing the annual pass card.
'Responsible users'
"This is designed to improve safety and security within the park for all users," said Estate Manager Ed Morris.
"There will be an amazing new activity park alongside shops and cafes; and Dalkeith Palace continues to be home to overseas students, so we need to ensure the park is safe and secure at night.
"Of course we do not wish to exclude responsible users from such a popular local attraction."
He said anyone who wished to enter the park in the evening or early morning could still do so.
"The annual Friends of Dalkeith Country Park pass card will enable card holders to enter the park at any time via a swipe card reader," he said.
"The main pedestrian access will be through the Town Gate and a card reader as well as CCTV and intercom will be operational from 21 March.
"The intercom will operate during the hours which the gates are closed, so if someone needs access but does not have a card, they can easily contact our on-site security team."