Special team created to crack down on potholes in Edinburgh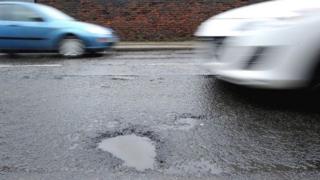 A special council team has been created to carry out a £180,000 crackdown on Edinburgh's potholes.
The temporary project, which is in addition to the £15m capital budget for roads and pavements, will focus on the city centre and south Edinburgh.
Council officials said it comes after the winter weather caused an increase in the number of potholes in the city.
George Street, the Bridges, South Clerk Street and Morningside Road are among key thoroughfares being targeted.
The council said the £180,000 would come from existing neighbourhood budgets.
Streets due for road repairs:
Bruntsfield Gardens, Bruntsfield Place, Burdiehouse Road, Cameron Toll, Captain's Road, Causewayside, Clerk Street, Colinton Road, Comiston Road, Craigmillar Park, Dalkeith Road, Gilmerton Road, Kirk Brae, Lasswade Road, Leven Street, Mayfield Road, Minto Street, Morningside Road, Newington Road, Nicolson Street, Old Dalkeith Road, Pleasance, South Clerk Street, Dewar Place, George IV Bridge, George Street, Morrison Link, The Mound, North Bank Street, North Bridge and South Bridge
Lesley Hinds, Edinburgh city council's transport convener, said: "We recognise there has been an increase in the number of potholes across the city over winter and now we're addressing the issue.
"In addition to our ongoing roads repair programme, we are focusing our resources on a dedicated team of staff to manage our road repairs. This will allow us to target the city's problem areas by getting permanent repairs 'right first time' which will reduce disruption."